We had unbelievable weather in January, temps in the 70s, so when it started to rain this week, I knew it was snowing in Tahoe! I told Bob, I'm taking off Friday and skiing!
So we set out Thursday after work and it was probably our most treacherous drive TO Tahoe yet. 18 wheelers lined the side of the road hunkering down for the night, a tour bus skidded out and blocking a lane, never mind the normal yahoos at the chain check in compact sedans being snickered at as they have to pull aside.
I've said it before, thank goodness for our all wheel drive "Tahoe Mobile". We didn't get in until midnight but we got in safe!
It snowed all night and never let up, even as I type this. I really can't describe the ski conditions, and my iphone pictures do not illustrate just how DEEP the snow is. From the chair lift, people looked like little plow machines plowing along with snow up to their waists! I even witnessed, from the chair lift, a guy fall and get buried to the point where only the tips of his skis stuck out. He called for help and when I got off the lift I had to notify ski patrol to go help him!! Another time a boarder jumped into a ditch and just stuck there. He just sat for a while defeated, until he gave a friendly wave to us folks gawking from the lift telling us he was okay. People were falling and getting stuck left and right!
My mantra was "Lean back, deep knee bend, keep my tips AND my speed up." (I really did say this to myself!) If you slowed or stopped your poles were almost useless in the deep deep powder.
It worked! I did good today if I do say so myself! At least there were a lot more skiers at Squaw compared to NorthStar so I didn't have to feel so "retro" lol.
Days like today, I really miss skiing with Bob, and having him there to share the weather, scenery and atmosphere, but I am thankful to have the chance to ski at all! As of right now the snow still hasn't stopped and I'm excited for Bob to have as much fun tomorrow as I did today!
Enjoy my pics, I'm sure the last thing most of you on the east coast want to do is look at snow! Tomorrow I spend the day with Ayla, so I'm sure I'll have some pictures of my snow angel to post.
Skiing - when I ski the trees, and there aren't many other skiers around, Robert Frost's Stopping By Woods on a Snowy Evening always pops in my mind...
Lift warnings for KT-22. Do not get on chair unless you are good. NO easy route down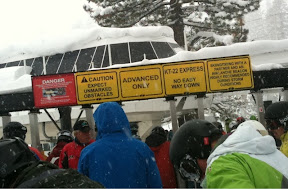 View of Olympic Village. Too snowy for any lake photos today
Grand Marnier provides a shot of warmth and a little confidence.
Sometimes no visibility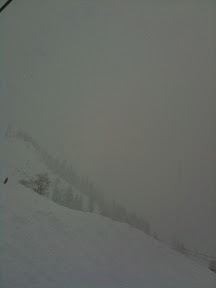 I actually edited the contrast to bring out powder lines. This run right here, snow was cutting at my knees.
I did manage to pull my phone out in time to capture this guy being stuck, he just gave up, took off his skis and waded out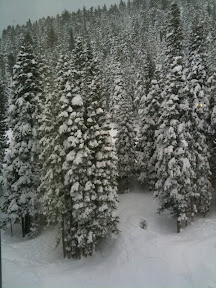 The woods are lovely, dark and deep.
But I have promises to keep,
And miles to go before I sleep,
And miles to go before I sleep.
- Posted from my iPhone